Tobe Novo V3 Mono suit
Over the past seasons, the Novo Mono Suit series has earned its reputation as the snowmobile mono suit of choice for serious backcountry riders. Built with the same principles of design, the Novo V3 Mono Suit will uphold and build upon the solid foundation of its predecessors. No aspect of functionality or performance is overlooked or spared in Novo V3. From the removable hood to the full-leg zips, this one-piece snowmobile suit is packed from top to bottom with all the features the backcountry demands.
This is available as a shell or insulated version.
Most monosuits are built with thin, unsupported suspenders.
Like loggers—who spend their days bending, lifting, cutting and hauling—we consider a good pair of suspenders crucial to our performance. Our custom-constructed harness is padded for comfort, have three adjustments points to keep everything in place, and have two thoughtfully-placed radio clips. The mesh panel between the shoulder blades gives you a more ergonomic fit without sacrificing breathability. Our suspenders are as rugged as the terrain we ride in.
Why you probably didn't know you wanted full leg zippers.
Most pants don't have full-zippers down the side, and we imagine you've lived a lifetime of getting into your pants just fine without them. But think back to that one day in the parking lot when you put your helmet on and realized you forgot to about your knee pads. Or your leg brace. When that happens, and you are standing in your Novo V3—that will be the moment you remember your leg zips and question how you went so long without them.
Only a product manager who rides would know to add this
Unlike most monosuits, our boot gaiters are constructed from extra tough materials that hold up against wear and tear from running boards. You'll also find Kevlar® Armortex® blend reinforcements on the cuff, which means your pant hem will look as good on day 100 as it did on day 1.
Double Stitching with TOBE Spider Silk™
When it comes to complex design, the most effective solutions often present themselves in nature. Our proprietary spider silk™ stitching was inspired by, arguably, the most experienced and specialized weavers on the planet. Our factories submit each stitch to a strenuous "Tensile Test" that measures stress versus strain to ensure maximum strength so that your suit is prepared to stand up to wear, tear, and the harshest conditions.
The one tiny detail that makes this suit more waterproof
In addition to testing the fabrics we use for waterproofness, we also test the overall construction of our gear in the "rain chamber." It's as if we put each of our monosuits through a carwash, and it allows to optimize the design for maximum water-tightness. One such design to result from this is a modified zipper design that captures any moisture that seeps through and funnels it out a tiny drain so that it never reaches your skin. In testing, this nearly invisible feature extended this suits rain chamber rating by an hour.
Because you can never have too many pockets
With 6 external pockets, a goggle-specific pocket and a smart-pocket for your phone, this suit has storage for all your adventure essentials—and then some. Remembering which pocket you put things in is up to you.
Why a monosuit is only as good as its ventilation
A snowmobile's ventilation system is crucial to the machines performance. When the engine overheats, it loses power. Our bodies work similarly—we also need the ability to cool down. So when we designed the ventilation system for this monosuit, we drew inspiration from our toys. Micro stretch panels mimic vent screens to keep rain and snow out. And we moved the vents closer to the chest so that they works optimally with backpacks.
The feature you'll be shocked no-one's thought of before
In the most technologically advanced age in history, most outerwear still requires us to take our phone out of our pockets. Our silicone smart-pocket is touch-friendly, helping you stay connected and communicate faster, so that you can spend less time pulling your phone out and more time having fun.
Why two zippers are better than one
A collar that is too tight feels constrictive. One that's too loose can be cold. And a centered zipper under your chin can be jabbing and uncomfortable. That's why we re-developed this zipper on this monosuit 4 times: to design a collar that every rider could customize for the combination of comfort and ventilation.
How we put toughness to the test
To determine how quickly materials will break down over time, manufacturers use the Martindale abrasion resistance test. A mechanical thumb rubs the surface of the fabric repeatedly until the fibres start to break. 100,000 revolutions is the equivalent of a lifetime of wear and tear. A normal polyester fabric can survive around 25,000 revolutions. Our monosuits are made with abrasion resistant rip-proof Cordura fabric that easily passes 100,000 cycles of wear without any sign of broken fibres.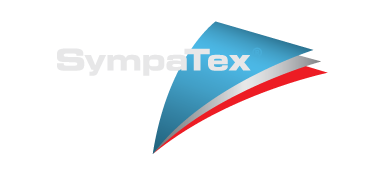 THE COMPACT HYDROPHILIC SYSTEM
Although it sounds complicated, it is actually very straightforward. When the body sweats, it does so to protect itself from overheating.
Although this natural process is vital, it also creates the risk that the body will be cooled excessively, for example if the moisture in the clothing removes the heat from the body.
The consequences of this would be reduced performance and a high risk of catching a cold.
The solution is called Sympatex.
EXCELLENT COMFORT WHATEVER THE WEATHER
There is nothing more unpleasant than wet and cold clothing. Sympatex has therefore developed a special membrane which absorbs the water vapor and removes it through the clothing to the outside.
This keeps the body warm and dry even in extreme situations. And the best thing about it is that the higher the physical activity, the more efficient the Sympatex membrane works.
Functional textiles with a Sympatex membrane also provide effective protection from low temperatures and rain.
ECOLOGICAL PROPERTIES
The membrane is 100% recyclable, like a PET bottle. The polyester obtained during the recycling has 100% reusability. PTFE-free and PFC-free.
WATERPROOFING: 45000MM
The waterproofness of the membrane is measured on the basis of the water column under the preassure of which the material starts to allow water to penetrate through it.
According to EN 343, a membrane is waterproof if it can resist a preassure of 1300MM. Pursuant to ISO 811, the Sympatex membrane far exceeds these values and is extremely waterproof with a water column of over 45000MM.
BREATHABILITY
In contrast to other membrane technologies, the poreless compact Sympatex membrane is based on a physical and chemical principle. The water-attracting part of the membrane absorbs the moisture from the body and emits it to the outside by evaporation. The Sympatex membrane has no pores that can clog from oil, grease or salt from your sweat. The transportation of water vapor away from your body happens on a molecular level.
WINDPROOF
The Sympatex membrane is 100% windproof, persuant to Din EN ISO 9237. This property is important to avoid wind chill, the feeling of additional cold in the wind.
EASY CARE

Wash your gear as often as you want, 100% function will remain guaranteed. Unlike porous membranes (EPTFE) the Sympatex membrane doesn't get damaged  or lose its waterproofness by detergent residues.
This means that the garments retain full performance even after frequent washing.
Watch the video below to learn more about the Sympatex 45,000mm Waterproof Membrane, and how it makes the TOBE 2.0 Collection the industry leader.




2.0 Outerwear
Refreshing your gear is important. In fact, it's the secret to being warm and dry year after year. That's right, we are encouraging you to wash your TOBE Outerwear at least once a year, although more often is completely acceptable.
Wash your gear as often as you want.
The performance and breathability will remain guaranteed even after frequent washing. Unlike porous membranes, the Sympatex membrane will not get damaged or lose its waterproofness due to detergent residue.
How to wash your gear:
Put your mono suit, jacket and bibs in the washer, just as you would any other clothing.
Use regular laundry soap or detergent or a specialty soap (we recommend Nikwax Tech Wash) to clean your gear.
Dry your gear in the dryer! Just make sure to use the tumble dry low setting.
Spray on a DWR (such as Nikwax TX.Direct) after the dry cycle is complete to ensure the water beads off like the first time you wore your gear.
 Base Layers
Our Merino Wool base layers perform just as magnificently in the washer and dryer as they do in the elements!
First, it is important to note that merino wool is self-cleaning, so you have the option of letting it hang overnight.
By morning, the garment will be dry and odor-free. However, when you do decide it's time for a wash, simply throw your merino wool base layers in with a dark load of laundry.
Wash with cool water and your detergent of choice. Then put them in the dryer on tumble dry low or medium. Yes, you read that right - you can dry your merino wool products on medium without fear of shrinking them!
Note: As an Amazon Associate, we may earn a small commission from qualifying purchases.
2.0 Series
TOBE guarantees all 2.0 Outerwear to be free of manufacturers defects in workmanship and materials for the life of the garment.

The lifetime of a product unfortunately does not mean your lifetime; gear has its own lifetime depending on the circumstances and the intensity in which it is used.
In the event of a failure originating from a material or manufacturer defect during the lifetime of the product, the garment will be repaired or replaced at no charge. In order to serve our customers in the most time efficient and effective manner, we will always attempt to repair the garment before initiating a replacement.
Signs that the garment has reached end of life include fabric fading, discoloration, broken zippers, fraying at cuffs and/or hems, the accumulation of small tears and signs of consumer repairs. This list is by no means all encompassing.

Rips, tears, cuts, punctures, burns, accidents, improper care, negligence, normal wear-and-tear will void the guarantee even if the issue is not related to these damages.

This guarantee applies only to the original purchaser with a valid proof of purchase. If the product is modified by the owner outside of an authorized repair facility, the guarantee is void.

We require that all items accepted for repair be received freshly laundered. We understand that this may be inconvenient, but we want to ensure the health and safety of our staff.
Other Outerwear and Apparel
All other TOBE Outerwear, mid and base layers, casual wear and accessories are covered by a 1 year limited warranty against manufacturer or material defects.

In the event of a failure originating from a material or manufacturer defect during the 1-year warranty period, the garment will be repaired or replaced at no charge.

We require that all items accepted for repair be received freshly laundered. We understand that this may be inconvenient, but we want to ensure the health and safety of our staff.
Boots
TOBE boots carry a 1 year limited warranty against manufacturer and material defects. Running boards can be detrimental to the soles of the boots and can accelerate signs of wear.  This is considered normal wear and tear and is not covered under warranty.
Helmets
TOBE helmets carry a 1 year limited warranty against manufacturer and material defects.
Start a Warranty Claim
To file a warranty claim, visit our knowledge base and select your product category.